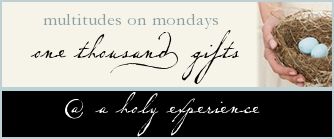 Being grateful is suppose to be a way of life. I fear that for me the everday things that are required of me get in the way of truly seeing the good things that God has blessed me with each day. Therefore, giving thanks sometimes gets pushed behind the other thoughts that take over my mind as the day goes by. I am hoping that by participating in "One Thousand Gifts" that I will become more proficient in seeing my blessings and giving thanks to a loving Heavenly Father that bestows those blessings upon me and my family. Today I begin to see my blessings and give thanks more abundantly for them.
1. A wonderful Christmas week with the presence of many of our family members.
Some who traveled from far away to be with us.
2. The sweet faithfulness of a beautiful daughter who is bearing a great disappointment with faith and grace.
3. The awakening of another daughter to what she needs to do to take her life from dispair and disappointment to a higher ground. Always holding on to faith when she felt like giving up.